For far too long I've had re-launching my blog as a task to complete.
Re-reading Austin Kleon's book Show Your Work inspired me to get posting and sharing.
This led me to run through all the CMS options out there. Here is why I chose Blot:
Too much maintenance
Bloat
Many plugins add up to make the project expensive
Updates breaking my site
Updated creating vulnerabilities
Plus: Hosting costs can be reasonable
Great for writing and publishing > fast and inside my workflow
Dashboard is clean and simple, focus is on the right things.
Too many restrictions on designing the site
Limited templates that did not appeal to me and my needs
Steep design learning curve
Expensive
Expensive
Rigid design
Slow and cumbersome posting
Templates are too visual
Love the design capabilities
Good template options
The most flexible
Concerned about writing and posting
Cannot access the dashboard from a via phone or app to post
Writing would be slow and cumbersome > outside my workflow
Why not flat CMSs?
Self hosted is more work than designing the

UX

More technical than I want to be on this project
Why I chose Blot
Minimal design
Themes balance images and text
Features you need
Low / no maintenance
Clean, easy, fast
Dropbox backbone > inside my workflow
Writing and posting is accessible > inside my workflow
Reasonable price for what I need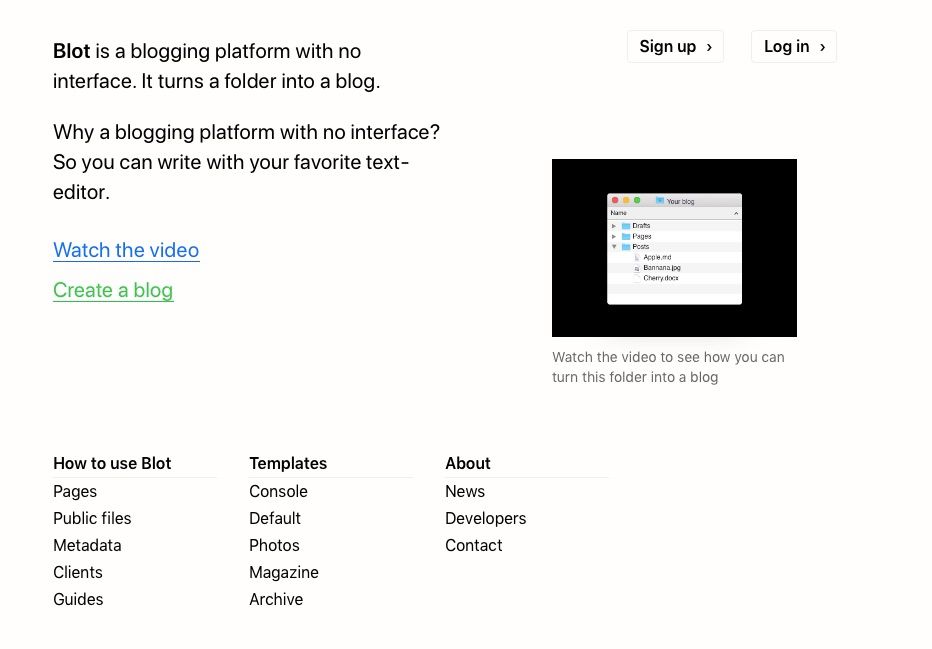 Conclusion
You cannot go wrong with any of these platforms. Dig in and try them all till you find the right balance between features, design, speed, flexibility and price.
Try Blot because it's tip top!