I've kept a migraine journal for years.
But I admit, I've not done a good job with my consistentcy. The practice of recording tends to coincide with prolonged migraine episodes. And wane when I'm feeling well.
Now I've committed to logging my migraines for the long haul. This requires discipline to log many entries per day.
Best Way to Journal Migraines
I've experimented and thought about the many ways to log my migraines and how I can leverage the data. I've used spreadsheets, Evernote, and many other types of software. Some are too simple. Some too complex. Some are self-indulgent. Some focus on text instead of data and others the opposite.
Each has its strengths and limitations. What I am after is the perfect migraine journal - for me.
For the past few months, I've been using Ulysses as a migraine journal. It's worked well while I was stuck in a difficult time. The long-form free writing allowed me to express my experiences.
But there is data in these journal entries that I want to analyze. I cannot do that in a text-based migraine journal. The logs need software that can quantify my migraines.
Migraine Journal in Airtable
I created a migraine journal in Airtable. In the grid view, I entered the fields I'd been using in Ulysses. It allows me to analyze my migraines for patterns. It's a start.
Then I created a form view in Airtable. This allows me to enter my migraines, workouts, sleep, and diet on the go.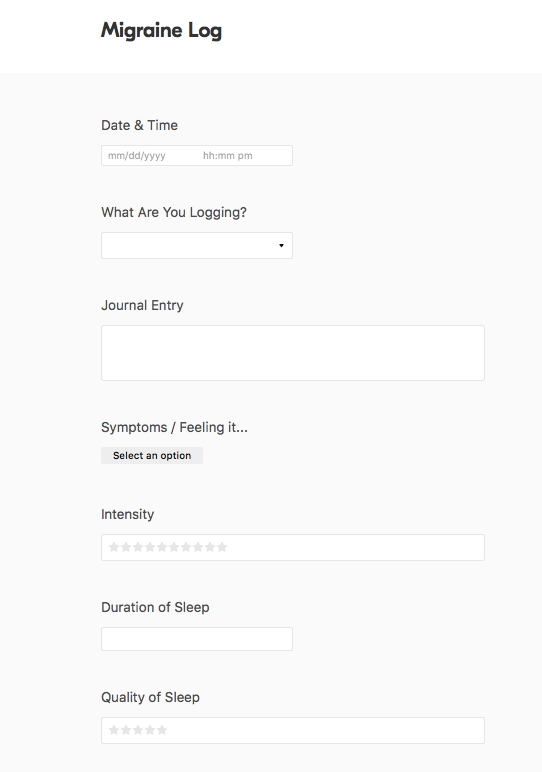 This took me about 15 minutes to set this up.
Airtable Improves Migraine Logging
Airtable improves my migraine log in the following ways:
Speed: I select a date for each entry and it adds the time. I can do this with Text Expander, but it never worked out.
Consistency: Each entry now has structure. Critical for analysis.
Numerical ratings for intensity and sleep.
Dropdowns of common symptoms.
Designed to enter more often throughout the day to capture more data points.
Analysis: By grouping fields and ranking ratings.
I like Airtable but it is only a stopgap. After several years they still lack a viable mobile application. Their integrations are hype and basic.
For now, I can collect more migraine data faster. But Airtable is not the long term solution. I plan to explore NoCode software platforms to develop a better log. The key will be integration into my workflow.
For now, it is a step up.
If you would like to see or use my Migraine Log, here you can try the grid or spreadsheets view and the entry form.